Dental Crowns Treatment
Dental Crowns are an ideal way to rebuild a damaged tooth.  as they use a fixed restoration fitted to the remaining part of a prepared tooth or, placed on a Dental Implant.  Crowns can also be used to reshape and help realign uneven and slightly crooked teeth.  Dental Crowns can drastically improve the appearance of a tooth that has been badly damaged and discoloured by fillings adding to a healthy and vibrant smile.
We at Cheadle use a variety of Crowns for different solutions that our patients can enjoy, Some of them are:
Full Porcelain Crowns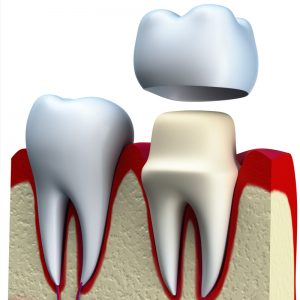 These are particularly recommended for front teeth replacement and Cosmetic Dentistry as they are metal free and have the same texture and feel like natural teeth giving a completely natural look to the replacement tooth/teeth.
Full Porcelain Dental Crowns also ensure there will be no problem with the appearance of a fine dark line of metal at the base of the crown which is known to sometimes occur if the patient suffers from gum recession of any kind. While utilising modern materials, we at Cheadle are able to use crowns that can also be placed anywhere in the mouth.
As part of their construction, a  plaster model is made from the impression taken of the prepared tooth. The model is scanned and a frame is designed using the latest in computer dental technology. The computerised milling machine cuts the frame out from a zirconium disc. Porcelain layers are built upon the frame and detail colouring is added.
Porcelain on Metal Crowns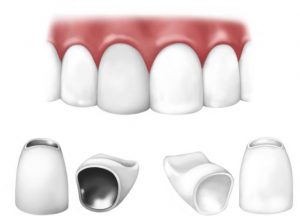 This restoration method is tried and tested and remains one of dentistry's primary restorations. Often used in the molar regions as they can withstand the considerable biting force; these are still the most popular Dental Crowns. Using the impression taken by the dentist, a metal thimble base is cast in noble alloy then veneered with layers of porcelain and fired in a kiln fusing the porcelain to the metal thimble.
Depending upon the number of Dental Crowns that may be needed, 5 working days are usually required.
Porcelain on Gold Crowns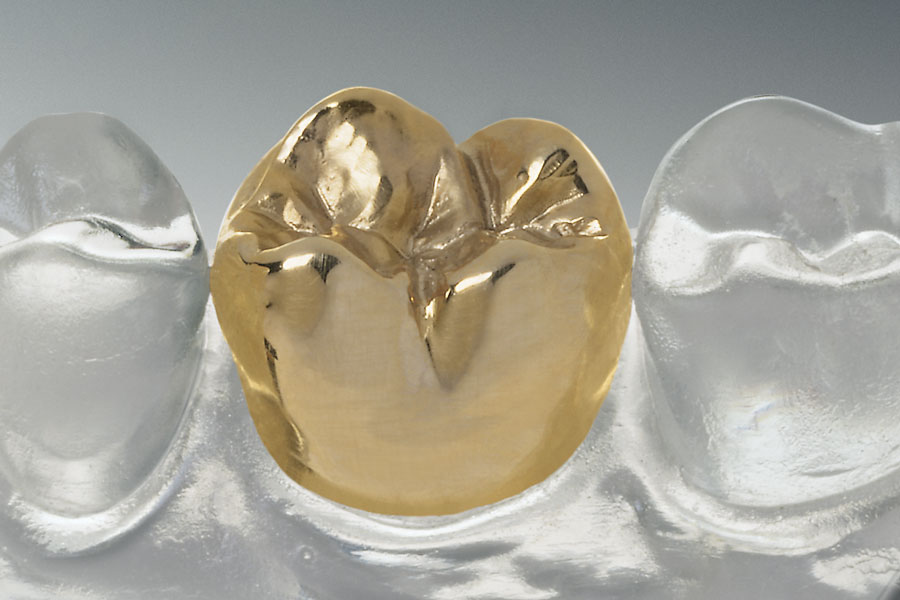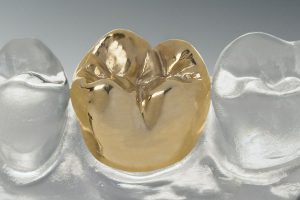 One of the oldest applicable dental crown materials, gold is there to stay as it provides great utility and is particularly used for back teeth restoration. Porcelain fused to gold Crowns is the strongest and longest-lasting Crowns because of the inherent strength advantage of a gold base.
Want to find out which option is best for you, crowns or veneers? read our article Veneers vs Crowns
Our services
Emergency Appointment
Emergency appointment from as little as £25!
Full examination for new patients
Full examination including X-rays for new patients
Teeth Whitening Services
1/2 price teeth whitening
Kids seen free
Kids seen FREE when adults register
Cosmetic consultation
FREE cosmetic consultation
Implant assessment
FREE implant assessment
Why choose Cheadle Dental?
Our team of dentists and dental support technicians can work with you in the following areas:
Routine check-ups and hygiene advice
Emergency dental care, 24/7
Dental bridges, crowns and implants
Cosmetic dentistry, including whitening, straightening and veneers
Root canals
Children's services and family dentistry
Nervous patients
Anti-wrinkling and other cosmetic facial procedures
A little more about us...
FAQs
A: This is one of the most commonplace reasons of why someone would see us to have a dental crown fitted. Our experts will examine your tooth and advise you on the best way to proceed.
A: We offer the option of paying in installments and this can be discussed with our reception team after your appointment. We also suggest that you watch out for special offers on our website for discounted treatments
A: Cheadle Dental is built upon our bond with our patients. Our reassuring, empathic staff will do everything they can to ensure you can relax during your time with us. In addition to our personal support, we also offer a range of sedation options that can be discussed with your dentist.