Teeth Fillings
A filling is a way to restore a tooth damaged by decay back to its normal function and shape. When a dentist gives you a filling, he or she first removes the decayed tooth material, cleans the affected area, and then fills the cleaned out the cavity with a filling material.
By closing off spaces where bacteria can enter, a filling also helps prevent further decay. Materials used for fillings include gold, porcelain, a composite resin (tooth-coloured fillings), and an amalgam (an alloy of mercury, silver, copper, tin and sometimes zinc).
Which Type of Filling is Best?
There is no ultimate teeth filling that is the best for everyone. Our specialists at Cheadle will consult you and help determine which is best by the extent of the repair, whether you have allergies to certain materials, where in your mouth the filling is needed, and the cost.

Considerations for different materials include:
Gold fillings are made to order in a laboratory and then cemented into place by our dentists.  Gold inlays are well tolerated by gum tissues and may last more than 20 years. For these reasons, many authorities consider gold the best filling material, however, it is time demanding as it requires multiple visits and it is considered the most expensive choice.
Silver amalgam filling
are resistant to wear and relatively inexpensive. However, due to their dull dark colour, they are more noticeable than, for example, porcelain or composite ones and are usually best in less visible areas, such as rear teeth.
Composite (plastic) resins are matched to be the same colour as your teeth and therefore used where a natural appearance is desired. Composite filling may not be the ideal material for large fillings as they may chip or wear over time and they can also become stained from coffee, tea or tobacco. These teeth fillings last from 3-10 years, if taken proper care of.
Porcelain fillings are called inlays or onlays and are produced to order in a lab and then bonded to the tooth by our specialists.  Porcelain fillings have an essential advantage as they can be matched to the colour of the tooth and resist staining. A porcelain restoration generally covers most of the tooth. Their cost is similar to gold.
Click here to find out more about teeth filling prices
Facts about fillings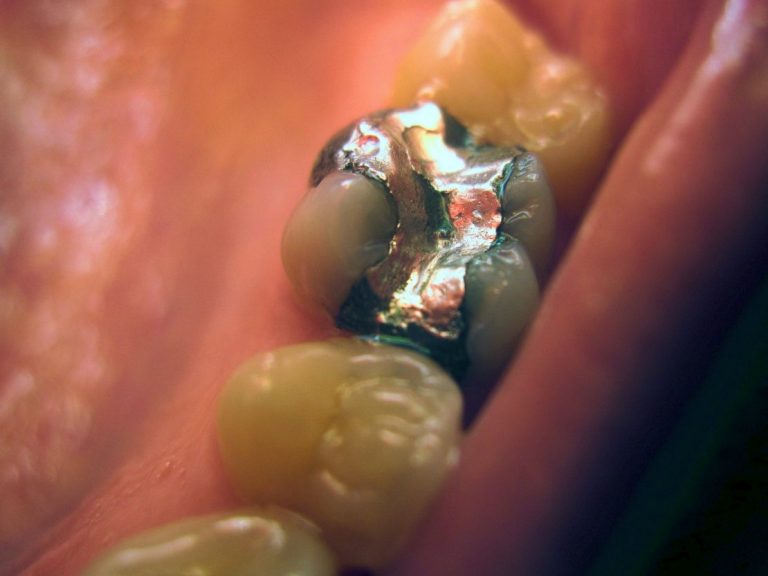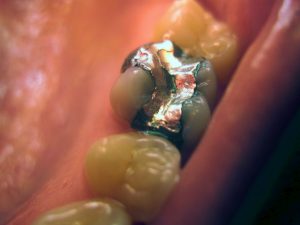 At Cheadle Village Dental Practice, we offer a range of options to replace parts of a tooth that have been lost through wear and tear, damage or decay. Our dentist will remove the decayed area carefully and will restore the tooth to its original size and shape by inserting filling material into the cavity.
Each filling is moulded to the exact shape of your tooth and is designed to be durable enough to stand up to normal use and to last for many years. You can choose between an amalgam, or silvery filling or a composite alternative, which offers an aesthetically pleasing white finish.
If a cavity is detected during a routine check-up it is advisable to get it filled as soon as possible before it deepens and causes more severe damage or starts to hurt. If you are nervous about the procedure we can talk you through it and offer various relaxation options, including sedation and calming techniques.
Follow up
Most patients experience absolutely no concerns after having a tooth filling. While the anaesthetic is wearing off, care must be taken not to inadvertently bite the inside of the mouth or cause damage to the newly filled tooth. Avoid hot drinks and food that requires a lot of chewing or crunching to consume for 24 hours. Inform us immediately if the teeth filling cracks fall out or causes discomfort in any other way.
Why choose Cheadle Dental?
Our team of dentists and dental support technicians can work with you in the following areas:
Routine check-ups and hygiene advice
Emergency dental care, 24/7
Dental bridges, crowns and implants
Cosmetic dentistry, including whitening, straightening and veneers
Root canals
Children's services and family dentistry
Nervous patients
Anti-wrinkling and other cosmetic facial procedures
A little more about us...
FAQs
A: Cheadle offers a wide range of materials to suit all requirements and budgets. Composite resins have proven to be our most popular type of fillings as these are white and can be blended to match the rest of your teeth for a more natural finish
A:Our dentists are experienced and use modern techniques to administer the anaesthetic via an injection that our patients hardly feel. You are welcome to view the equipment we use and talk you through the procedure. We also offer sedation and similar anaesthetic techniques if you are particularly worried.
A: The durability of fillings depends on the general wear and tear and that may mean that you will need to get some replaced after a while. However, remember that if treated well, filings can last for years.