Root Canals Treatment
We at Cheadle dental practice always try to devise a treatment with the aim to repair and save a badly decayed or damaged or infected tooth instead of removing it. We use all the latest in root canals treatment and therefore there is minimal pain due to our methods and local anesthetics. In fact, it is probably far more painful living with a decayed tooth.
Dental care is needed in the case when a tooth is cracked or has a deep cavity and bacteria enter the pulp. if this is left untreated bacteria and decaying materials can cause serious infections or a tooth abscess. The dental problems may lead to pulp death, bone loss, and loss of the tooth itself. Some telltale signs and symptoms would be swelling around your face and neck, a hole in your tooth, toothache or tooth pain, gum swelling, and temperature sensitivity.
We proudly offer our dental care treatment service with Root Canals Gatley, Cheadle.

Root Canals Treatments Techniques
Having a root canal done can allow you to keep a tooth that might otherwise have to be extracted and replaced with an implant, crown, or bridge. Dental treatment normally takes place over two sessions, starting with the removal of dead or infected tissue from the tooth and then cleaning out the root canals. 
Once this is done, the canals are sealed off to prevent further infection and the cavity is filled to aid healing and prevent further damage. A local anesthetic is normally used, although we also offer other dental procedures such as sedation to alleviate discomfort and anxiety during the procedure.
How to get started with a Root Canals Treatment?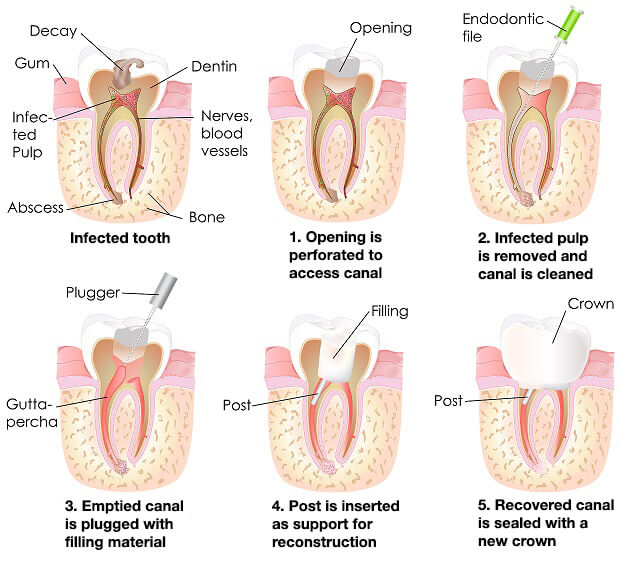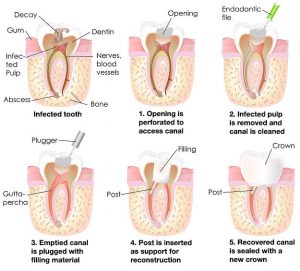 At Cheadle, Root canals procedure is routinely done by an expert endodontist or a general dentist. This treatment usually takes one or two visits, however, some treatments could prove difficult to complete in that time, so we advise having additional visits.
Our staff will first, conduct dental X-rays to check the extent of the damage. You also receive a local anaesthetic to control pain, which may be more severe if the tooth is abscessed. Then a rubber-like sheet called a dental dam is put in your mouth to keep the tooth clean, protected, and free of saliva. 
After this, our specialists proceed to remove decay, and often an opening is made to gain access to the decaying pulp chamber. Carefully using small dental instruments the infected or diseased pulp is then removed.
After the diseased pulp is removed, the pulp chamber and root canals are flushed and cleaned. The root canals may be reshaped and enlarged to allow better access for filling later. Before permanently filling the root canals, they should be clean of all infections and dried, with all the provided medication. 
If the root canal requires multiple visits, a temporary filling is placed in the crown to protect the tooth and keep out debris and saliva. Avoid biting or chewing on the tooth until it's been treated and restored by our experts at Cheadle
After the Treatment
After you have been treated by our staff, your restored tooth with the new crown should work normally and look cosmetically pleasing. We advise you to follow good dental and oral hygiene as your restored tooth could last a lifetime. In case your tooth is too sensitive and you feel some painful sensation, over-the-counter medications can help, however in the case that the pain persists, we invite you for a consultation with our dentist or endodontist.
Root canals are carried out when a tooth has a particularly large cavity in it that reaches the nerve chamber, or when the tooth breaks. Such cavities cannot be sorted out with a regular amalgam or composite filling and often cause a severe toothache due to bacteria reaching the nerve or an abscess forming beneath the roots, deep in the jawbone.
Why choose Cheadle Dental?
Our team of dentists and dental support technicians can work with you in the following areas:
Routine check-ups and hygiene advice
Emergency dental care, 24/7
Dental bridges, crowns and implants
Cosmetic dentistry, including whitening, straightening and veneers
Root canals
Children's services and family dentistry
Nervous patients
Anti-wrinkling and other cosmetic facial procedures
A little more about us...
FAQs
A: We do our utmost to make the treatment as pain-free as possible and while there may be some minor discomfort in some cases, the procedure is normally easy to bear and highly effective.
A: A normal root canal appointment normally lasts for about an hour, although this can be longer if you are having multiple root canals done, or if there are complications. We will advise you in more details during your initial consultation.
A: Avoid eating or drinking for the first few hours while the anaesthetic wears off. Then, stick to food that is smooth and easy to eat and avoid hot drinks for the next day or so. Brush and care for the tooth as normal, but contact us straight away if you experience any pain or problems.