Dental Veneers in Didsbury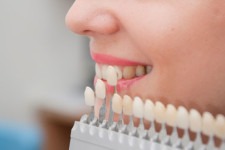 Veneers are very thin pieces of durable, tooth shaped porcelain that are custom made (for shape and color) by a professional dental laboratory. They are bonded onto the front of teeth to create a beautiful and attractive smile.
Veneers can completely reshape your teeth and smile. They can often be alternatives to crowns and the ideal solution in treating many dental conditions.
Whether you are looking to boost your confidence by changing the appearance of your smile, or to simply benefit from a fresh breath and healthy gums and teeth, our experienced dentists provide a comprehensive choice of treatments including Dental Veneers and all other General and Cosmetic dental services.
At Cheadle Dental Practice, our dentists strive to offer choice, care and confidence to each of our individual patients who live and work in Didsbury.
Our Offers
Emergency Appointment Offer
Licensed by the Cyprus Securities and Exchange Commission under licence number 138/11 in accordance with the Markets in Financial Instruments Directive.
New Patient Offer
We welcome new patients. Register as a new patient at cost of £25. Original price £45.Our new patient get full examination including small x rays.
Teeth Whitening Offer
Explore A Range Of Teeth Whitening Options. Open To Everyone, Book Now. Book your FREE consultation now.
Kids Dentistry Offer
Kids seen free, when adult register with us as new patient.
Free Consultation Offer
At Cheadle Dental Practice we offer FREE Consultation for Teeth Whitening, Teeth Straightening, Cosmetics and Implants.
Wedding Dental Makeover offer
We offer wedding detnal make over for both bride and groom. Call us to check our speciali prices.